Green Tea – Most healthy and famous beverage
Green tea is a beverage full of antioxidants and can help in keeping the body fit, active, and in shape. It is one of the best ways to manage your body weight. Green tea benefits are long known and hence is nowadays opted by a large population over the traditional forms of tea all across the globe. It will help in keeping a toll on your overall wellbeing.
The advancement in tea making has led to the involvement of different ingredients. The right quantity in the processing makes every blend special. One of those blends is Lavender and marigold green tea and has come up to be everyone's favorite.
Green tea as the preferred tea
Tea is one of the most preferred choices of beverage when it comes to healthy drinks. Having a cup of tea sip will savor your mood and make you refreshed for the entire day. Hence most people prefer tea over any other beverage.
It is always good to start your day with a refreshing cup of tea. Teas are divided into different categories on the basis of its its processing and ingredients. We all know that having herbal components in your daily tea can help in improving the lifestyle.
With growing awareness towards living a healthy life, people have begun to use herbal teas for a better and improved regime. Herbal ingredients include leaves, roots, stems of various medicinal plants. They are then added to the tea mixture which can work as a tea serve. There are more benefits of natural herbs when included in tea that one can imagine.
Lavender and marigold green tea: Ultimate blend of flavors
Lavender and marigold green tea leaves show a perfect balance of the two extremely opposite ingredients and are among the most popular green tea variant. If you love to try new flavors of green tea and enjoy green tea benefits, Lavender and marigold green tea is the perfect blend to start with.
Lavender and marigold green tea have a unique taste and are extremely healthy. There are some benefits of Lavender and marigold green tea leaves that one can get after adding their cup in the daily regime.
Health benefits Lavender and marigold tea
Lavender and marigold tea have gained popularity in the last few years due to the list of health benefits associated with it. Lavender is one of the most beautiful plants in the world. You can use lavender to make a variety of products such as oils, scents, soaps due to its vibrant color and soothing aroma.  The combination of lavender and marigold ensures its consumer get the required lavender and marigold green tea benefits.
Lavender tea benefits
Lavender green tea can privide instatnt relief from indigestion and can treat your upset stomach with just one cup. Consumption of lavender also helps in improving digestion and reduces inflammation in the body as well.
People who take green tea with Lavender as an ingredient can have their insomnia treated without much financial investment. The calming properties of Lavender help in providing uninterrupted sleep thereby treating insomnia. This is one of the major reasons lavenders are now largely useful for aromatherapy.  Lavender in the Lavender and marigold tea is largely known for relaxing the body muscles, trading muscle spasms, and aiding in sleep patterns.
Lavender is also treating people with migraines hence its use in green tea is extremely beneficial for migraines. Calcium present in lavender helps in treating joint-related disorders.
Lavender is a rich source of Vitamin A, calcium, iron, and phenolic compounds, which is the major reason for its medicinal properties.
Lavender is an excellent ingredient for treating mood disorders and helps in healing skin-related issues. The presence of anti-oxidants neutralizes the free radicals present in the body which in turn helps in the treatment of chronic disease, wrinkles and improves the digestive issues due to the presence of these in our body.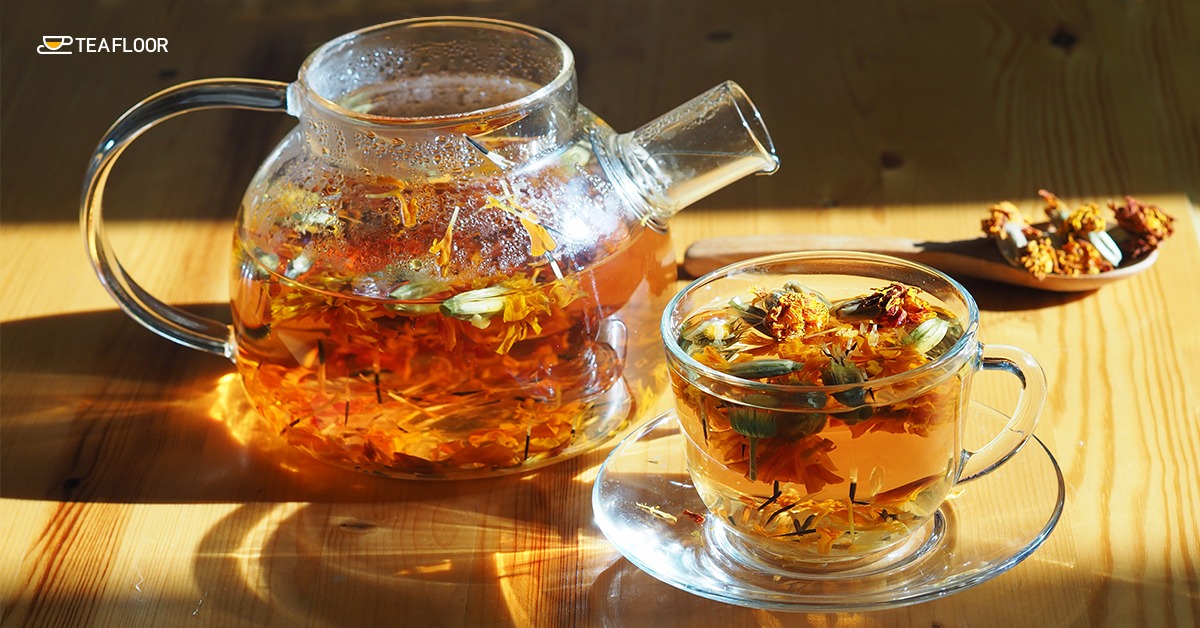 Benefits of marigold Tea
Marigold is a beautiful plant which you can use in festive decorations due to the aesthetic color and aroma. This is an important ingredient in Lavender and marigold tea.
People use marigold as a medicinal herb too as its core porperties include treating your skin and body.
Earlier, marigold was used in treating a number of ailments mainly affecting the skin. Adding marigold in the Lavender and marigold tea is one way of harnessing its healing power from this amazing herb.
You can use marigold for brightening up regular salads, and naturally coloring food and fabric. It will be great for treating amenorrhea, burns, bruises, and other skin infections. Hence, Marigold is one important ingredient in the making of Lavender and marigold tea.
Why Lavender and marigold tea?
Lavender and marigold green tea leaves are a great choice for a number of health benefits. It is know to aid digestion-related issues menstruation regulation, calming and alleviating mood, and treating inflammation as well. The combination of Lavender and marigold is great for both taste and health.
Buy Lavender tea at Teafloor today!
Lavender and Marigold tea benefits make it a perfect choice for individuals who look after drinking naturally and healthily. Buy lavender green tea leaves at the best rates on Teafloor online and enjoy a healthy and happy life.