Print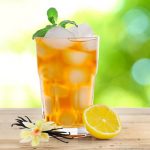 Vanilla Iced Green Tea
Vanilla happens to be a universally loved flavor when it comes to desserts and beverages. Vanilla ice creams, milk shakes, smooties, etc. are ever so popular! However, vanilla desserts come loaded with calories and sugar, which can be very unhealthy for you in the long run. If you are health conscious, but still love vanilla, then worry not! The Vanilla iced green tea from Teafloor is sure to take care of all your vanilla cravings. This a much healthier option than the highly sweetened vanilla desserts available in the market. Vanilla surprisingly goes really well with the flavors of tea and therefore makes for a delicious vanilla iced green tea, which is sure to please your palate.
Ingredients
4

cups

water

½

cup

Granulated sugar or honey

1

Tsp

Vanilla essence

1

Cup

Milk cream

3

Tsp

Teafloor Vanilla Green Tea
Instructions
Take a deep saucepan and add water to it. Put the saucepan on the stove over medium heat.


Bring the water to boil and add the Teafloor vanilla swirl green tea in it. Let the brew steep for about 5 to 7 minutes before straining it.


Add sugar to this mixture and stir really well. Add in the vanilla extract and continue stirring so that the extracts are uniformly distributed.


Now add the milk cream and whisk it in.


Your vanilla swirl green tea is absolutely ready. If you want, you can add a few ice cubes and a slight dusting of matcha powder on top. Serve it in tall grasses in a beautiful ceramic cup. You can keep it refrigerated for the whole day and share with friends and family.

Recipe Notes
Vanilla Iced Green Tea Recipe
As already mentioned, vanilla happens to be a favorite with most people, when it comes to beverages. The Teafloor vanilla iced green tea is where health joins hands with flavor. Not only does this tea taste good it, carries the antioxidants of green tea, which are highly beneficial for health on many different levels. You can serve it to guests, both young and old alike, to make tea time merry. This is a unique kind of tea, which is not too hard to make and doesn't even require a whole lot of ingredients. Just be sure to get hold of the Teafloor Vanilla iced green tea, and half your job will be done!
I'm a Blogger, always ready to explore new things. Starting from Technology to Seo, webiners etc. Driving more and more traffic to our website is my passion.